Instagram history: boomerang, mentions and references
For a long time already in the Social Network, the Instagram has a function through which people share stories. This option is called "Stories". For some, these are ordinary stories, for others reports, and for third memorable moments. This option involves adding photos or videos that appear in your Friends' Stories, but there are no images of the profile itself.
The use of stories makes it possible not to edit the photo, not to deviate from the general style of the profile and add any images, as well as videos, even the most eccentric, realizing that their period of life is only a day.
At the end of 2016, new functionality was added to Instagram Stories. And we'll tell you about the latest Stories news: boomerang, references and links. But at firts try ty get more instagram story views with all-smm!
Boomerang in Instagram Stories
Many have tested the Boomerang application for ordinary publications in this social network. Now in Instagram Stories it became real to make a boomerang just one touch!
In the news feed on top you need to click "Your story" (by analogy, as usual add History). You know that you can switch the self (front camera) to the rear camera (when you take a picture of what is in front of you) by clicking 2 times on the screen? Like clicking the mouse twice, opening the folder on the laptop.
After, at the bottom of the screen, you should extend your finger from the right to the left and move to the "boomerang" mode. Press "record" (button from the bottom). And that's all! A few moments later, the boomerang is done.
Article: "How to make a poll in instagram?"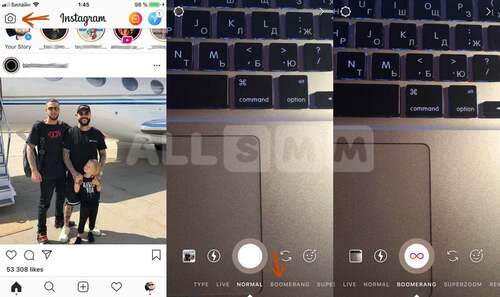 Mentions in Instagram Stories
On ordinary pictures in Instagram, you can make marks of other profiles. Now you can do it in Stories too. It is worth downloading or making a photo / video in History, and then adding text at the top (you need to click in the upper right corner of Aa). Specify the name of the profile with @. Share this photo / video. If you click on @ account during the History view, you can visit the specified profile.
If Stories has your profile checked, then a notification will come to Direct.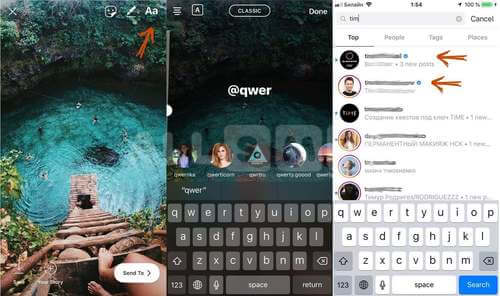 Links to Instagram Stories
Confirmed users (with a blue tick) and profiles with more than 10 thousand followers can register active links in their Stories. At the top left of the "sticker" mark, such profiles have a "hyperlink" mark. Following the posting of the History in Instagram below there is an inscription "More". It is necessary to hold the bottom up and click on the link. For business profiles this is excellent support! After all, you can translate directly from the stories to a personal resource.